Franz Schilling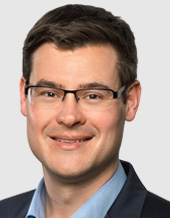 Short CV
Franz Schilling studied physics at the University of Würzburg and the University of California (Berkeley). He obtained a PhD from TUM focusing on nuclear magnetic resonance. During postdoctoral research at the University of Cambridge, funded by a Feodor-Lynen fellowship from the Alexander von Humboldt foundation, he deepened his interest for molecular imaging. Since 2018 he leads an independent Emmy-Noether research group at the Klinikum rechts der Isar at TUM. In 2019 he was appointed as Rudolf Mößbauer Tenure Track Assistant Professor for Biomedical Magnetic Resonance at TUM.
---
Selected Awards
2018, Fellow of the Bavarian Academy of Sciences and Humanities as one of the members of their "Young Academy"
2018, Emmy Noether research group from the German Research Foundation
2017, Summa Cum Laude Merit Award from the International Society for Magnetic Resonance in Medicine
2017, Junior Fellow of the International Society for Magnetic Resonance in Medicine
2016, Arnold-Sommerfeld-Price from the Bavarian Academy of Sciences
2014, Feodor Lynen Research Fellowship from the Alexander von Humboldt Foundation
2013, Ernst Award from the Gesellschaft Deutscher Chemiker
2004, Fellowship from the German Academic Scholarship Foundation (Studienstiftung des Deutschen Volkes)
---
Research Interests
Franz Schilling conducts research in the field of preclinical molecular imaging. His research focusses on the development of novel methods in the area of magnetic resonance imaging (MRI). Together with his group he characterizes and validates imaging biomarkers. Interdisciplinarity is an essential characteristic of this area of research which combines the development of physical methods, the chemical characterization and synthesis of molecular sensors, as well as the investigation of biological and medical research questions.
---
Selected Publications
Christian Hundshammer, Stephan Düwel, David Ruseckas, Geoffrey Topping, Piotr Dzien, Christoph Müller, Benedikt Feuerecker, Jan-Bernd Hövener, Axel Haase, Markus Schwaiger, Steffen Glaser, Franz Schilling; 'Hyperpolarized Amino Acid Derivatives as Multivalent Magnetic Resonance pH Sensor Molecules', Sensors (2018); 18(2):600
Stephan Düwel, Christian Hundshammer, Malte Gersch, Benedikt Feuerecker, Katja Steiger, Achim Buck, Axel Walch, Axel Haase, Steffen J. Glaser, Markus Schwaiger and Franz Schilling; 'Imaging of pH in vivo using hyperpolarized 13C-labeled zymonic acid', Nature Communications (2017); 8:15126
Franz Schilling, Susana Ros, De-En Hu, Paula D'Santos, Sarah McGuire, Elizabeth Mannion, Andre A. Neves, Kevin M. Brindle; 'The urea transporter – a novel substrate-free MRI gene reporter detected using transmembrane water exchange imaging', Nature Biotechnology (2017); 35:75-80
Christian Hundshammer, Stephan Düwel, Simone Köcher, Malte Gersch, Benedikt Feuerecker, Christoph Scheurer, Axel Haase, Steffen J. Glaser, Markus Schwaiger, Franz Schilling; ´Deuteration of hyperpolarized 13C-labelled zymonic acid enables sensitivity-enhanced dynamic MRI of pH´; ChemPhysChem (2017); 18(18):2422-2425 (cover page)
Franz Schilling, Lisa R. Warner*, Naum I. Gershenzon, Thomas E. Skinner, Michael Sattler, Steffen J. Glaser; 'Next Generation Heteronuclear Decoupling for High Field Biomolecular NMR, Angewandte Chemie International Edition (2014); 126(17):4564-4568
Lise Vejby Søgaard, Franz Schilling, Marion A. Janich, Marion I. Menzel, Jan Henrik Ardenkjær-Larsen; 'In vivo measurement of apparent diffusion coefficients of hyperpolarized 13C-labelled metabolites', NMR in Biomedicine (2014); 27(5):561-569
Guannan Zhang, Franz Schilling, Steffen J. Glaser, Christian Hilty; 'Chemical Shift Correlations from Hyperpolarized NMR using a single SHOT', Anal. Chem. (2013); 85(5):2875-2881
Franz Schilling, Stephan Düwel, Ulrich Köllisch, Markus Durst, Rolf F. Schulte, Steffen J. Glaser, Axel Haase, Angela M. Otto, Marion I. Menzel; 'Diffusion of hyperpolarized 13C metabolites in tumor cell spheroids using real-time NMR spectroscopy', NMR in Biomedicine (2013); 26(5):557-568
Franz Schilling, Steffen J. Glaser; 'Tailored real-time scaling of heteronuclear couplings', Journal of Magnetic Resonance (2012); 223:207-218
Franz Schilling, Leif Schröder, Krishnan K. Palaniappan, Sina Zapf, David E. Wemmer, Alexander Pines; 'MRI Thermometry Based on Encapsulated Hyperpolarized Xenon', ChemPhysChem (2010); 11(16):3529-3533 (cover page)
---