Maja Horst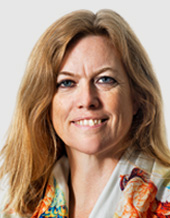 Short CV
My background is interdisciplinary with training in communication, sociology and management studies. I am an internationally recognized scholar of science communication and science and technology studies and have published widely within these fields. In addition, I have been experimenting with interactive communication formats for which I have been awarded the Danish Science Minister's communication prize. In the periode 2011-2019, I served as Head of Department of Media, Cognition and Communication at University of Copenhagen and was appointed Professor of Science Communication in 2014. In 2019, I was appointed Professor of Responsible Innovation at DTU. I have also been engaged in Science Policy as member of the Danish Science and Innovation Policy council from 2014-2019 and as member (2020) and Chair of the Independent Research Fund Denmark (from 2021). In 2021 I was elected president of the European Association for the Study of Science and Technology.
---
Selected Awards
2020-2023, Visions and sense-making on AI in China, SDC PhD-stipend (200K Euro)
2020-2023, Public Communication of AI, DTU Alliance stipend (150K Euro)
2013-2014, Installation about Scientific Social Responsibility (20K Euro)
2013-2017, BioSYNergy. PI: Birger Lindberg Møller, University of Copenhagen's Excellence programme for Interdisciplinary Research (3 mio Euro)
2013-2015, Materiality and Affect in Public Engagement with Science (MAPES). Marie Curie IIF grant to Sarah R Davies with Maja Horst as scientist in charge (225K Euro)
2011, Member of ATV (Danish Academy of Technical Sciences)
2010-2014, Scientific Social Responsibility (SSR). The Danish Social Science Research Council (450K Euro)
2009, Danish Science Minister's Science Communication Prize
2007-2009, Research Management and Risk (REMAR). The Danish Social Science Research Council (150K Euro)
2007, Stem cell research in the public sphere). Danish Research Council for the Humanities (80K Euro)
---
Research Interests
Science and Technology Studies, Public Communication of Science & Technology, Public Understanding of Science, Research Management, Responsible Research and Innovation, Sociology of Innovation
---
Selected Publications
Maja Horst (2021): Science communication as a boundary space: An interactive installation about the social responsibility of science. Online first doi.org/10.1177/01622439211003662
Qiaoyan Zhu & Maja Horst (2019): Science communication activism: Protesting Traditional Chinese Medicine in China. Public Understanding of Science. 28(7)812-827
Cecilie Glerup, Sarah R Davies & Maja Horst (2017): 'Nothing really responsible goes on here': Scientists' experience and practice of responsibility. Journal of Responsible Innovation 4(3)319-336
Maja Horst, Sarah R Davies & Alan Irwin (2017): Reframing Science Communication. In Felt et al (eds): Handbook of Science and Technology Studies. Boston: MIT Press.
Sarah R Davies & Maja Horst (2016): Science Communication: Culture, Identity and Citizenship. London, Palgrave Macmillan.
Sarah R Davies & Maja Horst (2015): Crafting the Group: Care in research management. Social Studies of Science 45(3)371-393
Cecilie Glerup & Maja Horst (2014): Mapping 'Social Responsibility' in Science. Journal of Responsible Innovation 1(1)31-50.
Maja Horst (2013): A field of expertise, the organization or science itself?: Representing research in public communication. Science Communication. 35(6)758-779.
Maja Horst & Mike Michael (2011): On the shoulders of idiots – Re-thinking Science Communication as 'event'. Science as Culture 20(3)283-306.
Maja Horst & Alan Irwin (2010): Nations at ease with radical knowledge: on consensus, consensusing and false consensusness. Social Studies of Science. 40(1)105-126.
---