Ron M.A. Heeren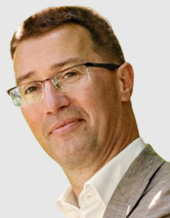 Short CV
Prof. Dr. Ron M.A. Heeren obtained a PhD degree in technical physics in 1992 at the University of Amsterdam on plasma-surface interactions. He was the research group leader at FOM-AMOLF for macromolecular ion physics and biomolecular imaging mass spectrometry in the period 1995-2015. In 2001 he was appointed professor at the chemistry faculty of Utrecht University lecturing on the physical aspects of biomolecular mass spectrometry. In 2014 he was appointed as distinguished professor and Limburg Chair at the University of Maastricht. He is scientific director of M4I, the Maastricht MultiModal Molecular Imaging institute and heads the division of imaging MS. As a result of his efforts to add value to scientific research, valorization, he was awarded the prestigious 2019 Physics Valorization prize by the Dutch organization for scientific Research, NWO. He is and has been active in many professional societies to advance mass spectrometric research, education and professionalization. He has published numerous, well-cited works in the field of imaging mass spectrometry. His h-index is 57 (Google scholar) and has an outstanding funding record. His academic research interests are mass spectrometry based personalized medicine, translational molecular imaging research, high-throughput bioinformatics and the development and validation of new mass spectrometry based metabolomic imaging techniques for the life sciences.
---
Selected Awards
2020, Thomson medal of the IMSF for distinguished contribution to international mass spectrometry
2019, Brightlands Convention Award
2014, Robert Feulgen lecturer, Society for Histochemistry
2013, Winner, 10th Venture Challenge, Netherlands Genomics Initiative, The Netherlands
2012, Award, Exploratory Measurement Science Group (EMSG), University of Edinburgh
2010, Distinguished Wiley Visiting Scientist award
2008, RCM Beynon Prize, Rapid Communications in Mass Spectrometry
2002, Bert L. Schram Award, Dutch Society for Mass Spectrometry (NVMS), The Netherlands
---
Research Interests
Biomolecular imaging mass spectrometry in biology and biomedicine
Nanoscale chemical imaging, localization of bio-macromolecules in complex surfaces
Local immune-metabolism and their molecular profiles of health and disease
Structural analysis of non-covalently bound complexes
The development and use of hyperspectral imaging technologies for complex surface analysis
Interdisciplinary research across physics, chemistry and biology
Translational molecular research for clinical applications and intraoperative diagnostics
---
Selected Publications
Klára Šcupáková, Frédéric Dewez, Axel K. Walch, Ron M.A. Heeren, and Benjamin Balluff: Morphometric cell classification for single-cell MALDI-MSI.
Ang. Chemie Int. Ed. (2020) 132 (doi.org/10.1002/anie.202007315).

Beatriz Rocha, Berta Cillero-Pastor, Gert Eijkel, Patricia Fernandez-Puente, Martin Paine, Cristina Ruiz-Romero, Ron Heeren, Valentina Calamia, and Francisco J Blanco: Integrative metabolic pathway analysis reveals novel therapeutic targets in osteoarthritis.
Molecular and Cellular Proteomics (2020) 19 574-588.


Tim van Smaalen, Shane Ellis, Nadine Mascini, Tiffany Porta, Berta Cillero-Pastor, Lisa Hillen, Ernest van Heurn, Carine Peutz-Kootstra and Ron M.A. Heeren: Mass spectrometry imaging rapidly discriminates between ischemic injury in renal tissue.
Anal. Chem. (2019) 91 3575-3581.

Shane R. Ellis, Martin R. L. Paine, Gert B. Eijkel, Peter Husen, Martin Hermansson, Christer S. Ejsing and Ron M. A. Heeren: Automated, parallel mass spectrometry imaging and structural identification of lipids.
Nat. Methods (2018) 15 515–518.

Klára Šcupáková, Zita Soons, Gökhan Ertaylan, Keely A. Pierzchalski, Gert B. Eijkel, Shane R. Ellis, Jan W. Greve, Ann Driessen, Joanne Verheij, Theo M. De Kok, Steven W.M. Olde Damink, Sander S. Rensen, and Ron M.A. Heeren: Spatial systems lipidomics reveals nonalcoholic fatty liver disease heterogeneity.
Anal. Chem. (2018) 90 5130–5138.

Shane R. Ellis, Jens Soltwisch, Martin R.L. Paine, K. Dreisewerd and Ron M.A. Heeren: Laser post-ionisation combined with a high resolving Orbitrap mass spectrometer for enhanced MALDI-MS imaging of lipids.
Chem. Comm. (2017) 53 7246–7249 .

Alison J. Scott, Julia Maria Post, Raissa Lerner, Shane R. Ellis, Joshua Lieberman, Kari Ann Shirey, Ron M.A. Heeren, Laura Bindila, Robert K. Ernst: 3D Host-Pathogen Interface Mapping Defines a Lethal Role for Inflammatory Lipids.
P. Nat. Ac. Sci(2017) 47 12596-12601.

Gregory Fisher, Anne Nina Ogrinc Potocnik, John Hammond, Scott Bryan, Paul Larson, and Ron M.A. Heeren: A new method and mass spectrometer design for TOF-SIMS parallel imaging MS/MS.
Anal. Chem. (2016) 88 6433–6440.

Shane R. Ellis, Julia H. Jungmann, Donald F. Smith, Jens Soltwisch.and Ron M. A. Heeren: A enhanced detection of high mass proteins using an active pixel detector.
Ang. Chemie. Int. Ed. (2013) 52 11261–11264 183.

K. Chughtai and Ron M.A. Heeren: Mass spectrometric imaging for biomedical tissue analysis.
Chem. Reviews (2010) 110 3237–3277.
Full publication list (link to Maastricht University)
---