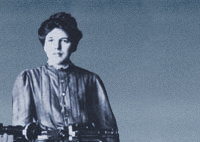 Target Group
Outstanding scientists from outside TUM who intend to explore gender- and diversity-relevant themes in the context of the natural and engineering sciences together with a TUM research group are eligible for a TUM-IAS Anna Boyksen Fellowship. The proposal is to be submitted jointly by the nominee and the planned TUM-IAS host.
Background
The Fellowship is named after Anna Boyksen, the first female engineering student at TUM (1906).
Duration/Stays at TUM
The Fellowships last two years, during which Fellows are expected to spend a total of three to six months at TUM. In this way, TUM-IAS intends to further a lasting and productive connection on an international level.
Funding
Anna Boyksen Fellows receive an award of max. €20,000 plus max. €50,000 for travel, housing and research-related costs (depending on the length of their stay). Fellows will be given a maximum degree of freedom as to how they utilize these funds (within bounds set by funding agencies; the funds are administered by the TUM-IAS) and their time. The award will be transferred to the Fellow typically in two or three installments.
Family support
For Fellows with family responsibilities, the TUM-IAS offers flexible funding, additional administrative support, and various other kinds of provisions. For more information, please see here.
Tandem nomination
It is possible to nominate an Anna Boyksen Fellowship candidate as part of a "tandem package" together with a Hans Fischer (Senior) Fellowship candidate. However, this is not mandatory – it is also possible to only nominate one candidate for an Anna Boyksen Fellowship.
Anna Boyksen Visiting Fellowship
For those scientists who cannot make the requirement of several months' stays at TUM, TUM-IAS offers Visiting Fellowships. TUM-IAS supports these short stays with travel and accommodation funding.
How to apply
Please submit the following documents:
nomination letter by a TUM professor (Host), including a description of the facilities provided for the Fellow by the TUM Host institute,
nomination letter by the Dean of the hosting department or another member of the TUM Extended Board of Management (EHP) or TUM-IAS Board of Trustees,
a CV (no more than 5 pages) including a list of major publications (please highlight the 3-5 most important publications of the past 5 years),
a statement of purpose jointly signed by the candidate and the hosting professor, describing how the Fellowship would contribute to the innovation of the scientific environment at TUM, the specific goals to be achieved, a budget plan and a time plan regarding the candidate's projected periods of stay at TUM. The statement should clearly indicate to what extent the research project covers gender- and/or diversity-related themes. Moreover it should be prefaced with an abstract.
Decisions on the award will be made in consultation with the TUM Senior Vice President Talent Management & Diversity and the TUM Gender & Diversity Board.
Calls will be published once a year on the TUM-IAS website. Please send nominations directly to the TUM-IAS office.